Vicki Lein
Credentials: M.S.
Position title: Senior Project Director
Email: vlein@wisc.edu
Phone: (608) 263-3427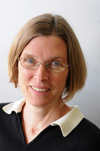 Vicki Lein has been a project director with the University of Wisconsin Survey Center since 2009. During this time, Vicki has overseen complex multi-modal longitudinal studies such as the MIDUS Midlife in the United States National Study of Health and Well-Being, the Harvard Second Generation Study, the SEED Study to Explore Early Development, the Wisconsin Study of Families and Loss for the Wisconsin Longitudinal Study, and the Longitudinal Study of Generations. Vicki has years of experience overseeing studies of cognitive health, utilizing the Brief Test of Adult Cognition by Telephone (BTACT) and the Telephone Interview for Cognitive Status (TICS). Vicki's talents include questionnaire development and review, and complex sample management.
Prior to joining UWSC, Vicki was a research scientist for the Wisconsin Department of Natural Resources, where she utilized mail questionnaires, focus groups and in-depth personal interviews, focusing on business decision making related to environmental protection, and modeled and evaluated market-based incentives programs.
Vicki holds a master's degree in public policy and analysis from the Robert M. La Follette School of Public Affairs, University of Wisconsin – Madison, with a certificate in energy analysis and policy from the Nelson Institute for Environmental Studies. She holds a bachelor's degree in economics from Carleton College.