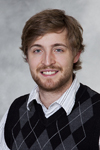 Rob Schultz is a Field Supervisor at the UW Survey Center. In this capacity, he is responsible for supervising field efforts on Computer-Assisted Personal Interviewing (CAPI) surveys including the Wisconsin Longitudinal Study (WLS) and Midlife in the US (MIDUS), as well as many other CAPI projects.
Rob began his career at the UW Survey Center in 2007 as a telephone interviewer and has over 10 years of experience supervising field efforts on complex CATI and CAPI surveys.
Rob graduated from the University of Wisconsin-Madison with a Bachelor of Arts degree in German.