Fiona Weeks
Credentials: M.S.
Position title: Senior Project Director
Email: fweeks2@wisc.edu
Phone: (608) 262-7242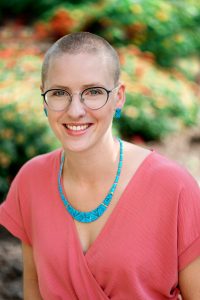 Fiona Weeks (she/they/ella) is a senior project director with a diverse background in managing survey research and other data collection and analysis projects. Her primary subject matter expertise is in public health and health care, and she has worked with collaborators from many different disciplines, including medicine, epidemiology, economics, sociology, nursing, and engineering.
Fiona previously served as the Principal Investigator for the Wisconsin PRAMS (Pregnancy Risk Assessment Monitoring System), during which time she partnered with Wisconsin Tribal nations to complete a census sample of Indigenous birthing people, and collaborated with UWSC staff to develop and implement new survey questions. They have also facilitated many community-based focus groups in both English and Spanish, implemented in-depth interviews, and developed survey instruments.
Fiona has a BA in Sociology and Community Health from Tufts University, an MS in Public Health from Johns Hopkins University, and is currently a PhD candidate in the UW-Madison Department of Population Health Sciences.