Jaime Faus
Position title: Senior Project Director
Email: jfaus@ssc.wisc.edu
Phone: (608) 262-5757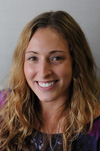 Jaime Faus started her career at the UW Survey Center in 2005 when she was hired as a phone interviewer during her undergraduate work. Since then she has gained valuable experience in a variety of roles including phone room shift leader, assistant project director, project director and since 2016, senior project director. While she has extensive experience with protocol and questionnaire development, recruitment, field staff training, directing mail, web, and CATI studies, Jaime's primary focus is CAPI projects. She has managed CAPI projects on a variety of topics ranging from education, aging populations, under-served communities, to sensitive and hard-to-reach populations and more.
She has served on UWSC's Internal Research Committee since 2017, transitioning to co-chair in the winter of 2021 and chair in the winter of 2022. Jaime works closely with UWSC Faculty Director and Survey Methodologist Jen Dykema and fellow committee members to organize monthly LuncheonLearn meetings to expose staff to current research about survey methodology, discuss how to introduce practices based on research into UWSC practice, and help develop an internal research agenda.
Jaime received a bachelor's degree in Communication Arts from the University of Wisconsin-Madison with a certificate in Women's Studies.