Nathan Jones
Credentials: Ph.D.
Position title: Senior Project Director
Email: nrjones@ssc.wisc.edu
Phone: (608) 890-4724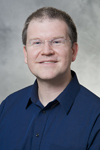 Nathan Jones, PhD, has 20 years of experience in survey research, epidemiology, program evaluation, research design, and project management. Dr. Jones has been senior project director at UWSC since 2012 concentrating on international surveys, health research, complex analysis, and data management. He provides consultation on sample design, weighting, questionnaire development, Qualtrics web survey design, and parameterized report generation. He manages and analyzes data using statistical software packages including R, Stata, SAS, SPSS, and ArcGIS; writes technical documentation on survey methodology and response rates; and provides analysis assistance to principal investigators. Dr. Jones holds a PhD in demography from the University of Pennsylvania and a BA/MA in sociology from Emory University.