Karen Zoladz
Credentials: M.A.
Position title: Interim Director of Project Management
Email: zoladz@wisc.edu
Phone: (608) 265-9866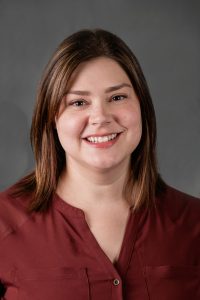 Karen began her career at UWSC in 2010 as an Assistant Project Director, becoming a Project Director and eventually a Senior Project Director in 2016. For the past 13 years, she has managed increasingly complex and innovative projects of all modes, often focusing on studies with a face-to-face component. She has extensive experience in instrument development, complex sample management, and working with hard-to-reach populations, including young adults in foster care and families in poverty. Karen has helped with the development of custom software for UWSC project directors, has completed countless questionnaire reviews, helped to create useful documentation and templates for her colleagues and served as a trainer and mentor to many new staff members.
Karen has been appointed to the role of Interim Director of Project Management previously filled by UWSC's Associate Director, Kelly Elver. Her current focus is training and assisting UWSC's project directing staff as they manage over 80 projects each year. In addition to her director of project management responsibilities, she also manages the telephone and cognitive interviews, paper questionnaires, and in-person efforts of the highly influential MIDUS (Midlife in the United States) study.
She received her master of arts degree in sociology from UW-Milwaukee in 2010. She also holds a bachelor's degree in sociology and political science from UW-Milwaukee.