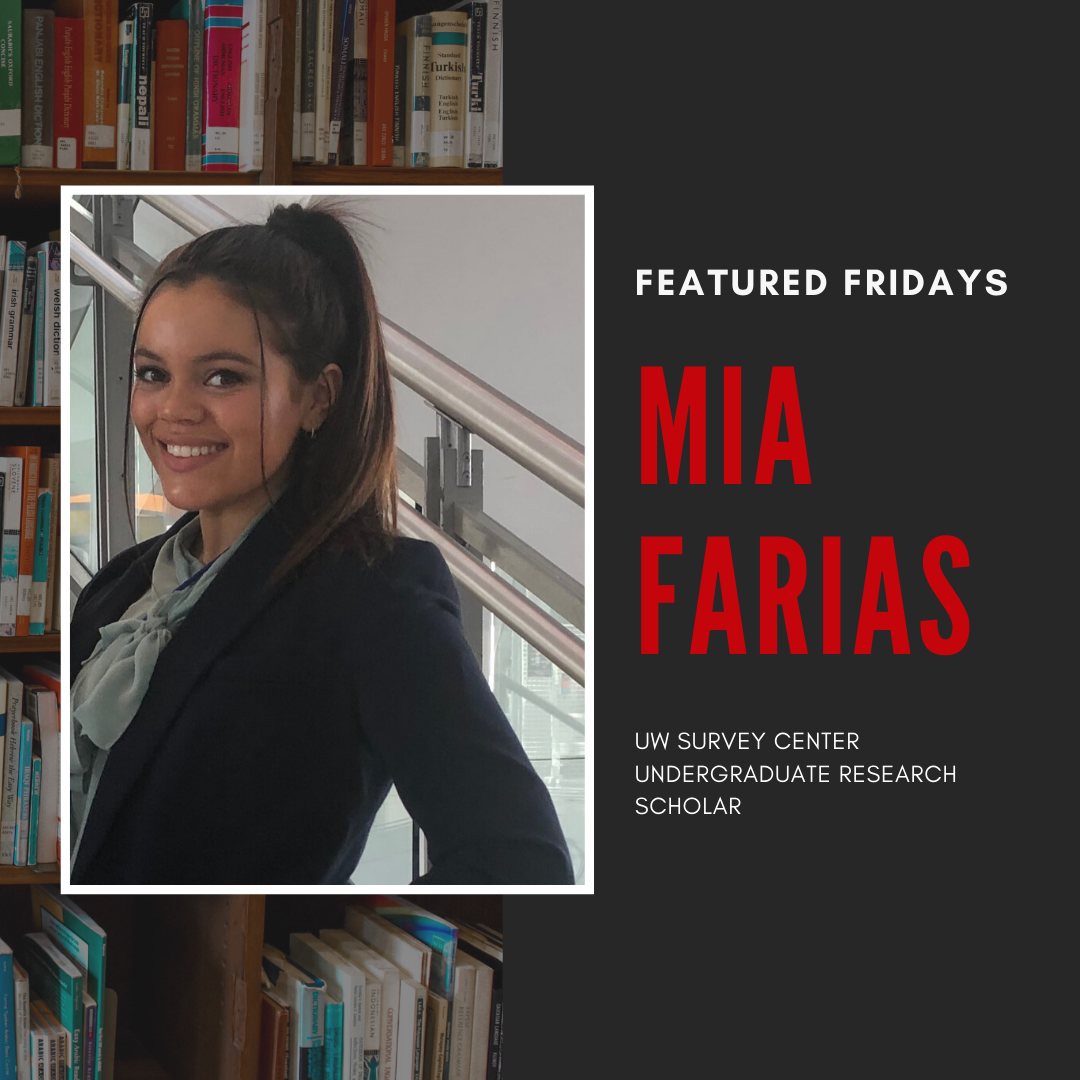 For the next four Fridays, we will be featuring each of the UW Survey Center's current Undergraduate Research Scholars. Each of these UW-Madison students have been working with UWSC's Survey Methodologist, Dr. Jen Dykema, and will be presenting at the upcoming Undergraduate Research Symposium on Friday, April 3rd at Union South.
---
Mia Farias
Year: Freshman
Major: Psychology
Hometown: South Bend, Indiana
Fun Fact: She has a pet duck named Marley.
What are you passionate about?
I am passionate about living a healthy life style.  I believe in the importance to take time for yourself each day to stay active, eat healthy, and to take care of your mental health.  I enjoy doing yoga, running, and lifting weights to keep in shape. Visiting with friends daily, keeping organized, and taking walks around campus is another way that I like to de-stress and let my mind wander away from the stresses of school.
Favorite class so far?
My favorite course that I have taken this year was Criminal Justice in America taught by my F.I.G. (Focused Interest Group) Professor Ralph Grunewald.
Why research?
Deciding to go to a large research university I had known that I wanted to get involved in research immediately.  The Undergraduate Researcher Scholars program had made that possible early on by allowing me to become a part of the research community immediately.  The idea of research to me is having the opportunity to contribute something meaningful to society and overall improve the lives of others.

One of the coolest insights I have gained through the experience of research thus far is the way to approach my personal understanding of a topic or concept.  School often gets us in the habit of thinking that there is a right and a wrong answer for everything.  However, through the process of research there can be many versions of an answer or a solution.  Getting in a routine of questioning and applying different approaches in the process of both the research process and with academics is more beneficial because you gain more widening the scope of your thought process.