The Executive Board of the Midwest Association for Public Opinion Research (MAPOR) named Faculty Director Jennifer Dykema as its newest MAPOR Fellow at its November 2022 meeting. MAPOR Fellows are MAPOR members who have significant contributions to MAPOR through contributions to the field of public opinion and survey research, who have provided outstanding service to the organization, or who have provided considerable mentorship to students and professionals in our field.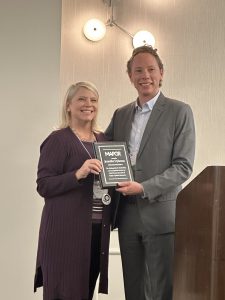 Kevin Ulrich, MAPOR President, presented the award, noting that Jen "personifies the ideal of a MAPOR Fellow. She is a notable scholar with over 50 published research articles and countless conference papers and professional reports. She served on the MAPOR Executive Council from 2012 through 2014 where she assisted me with my transition to webinar coordinator. As a graduate student she presented her first paper at MAPOR in 1992 entitled, 'Using Computer Assisted Self Interviewing to Administer Sensitive Questions to Youth.' In addition to her accomplishments and accolades, she is just an all-around really nice person."
Jen joins two other MAPOR Fellows from the UWSC –Associate Director John Stevenson and former Faculty Directory Nora Cate Schaeffer.