The UW Survey Center is well known for providing state-of-the-art research collaboration and services to researchers at the UW and the state of Wisconsin.  Less visible are the contributions UWSC makes to mentoring and training undergraduates.  UWSC regularly employs 50 to 100 undergraduates who are trained as phone interviewers, data entry operators, and mail room workers.  UWSC's preference for promoting from within means that these students have opportunities to apply for regular staff and supervisory positions within UWSC's field operations, survey management, and technology departments.  Students in all these positions develop a range of skills that will help them when they enter the job market.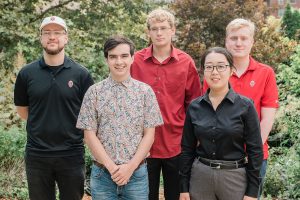 The highest direct impact for many undergraduates comes from mentored work experiences in various research-related positions.   Over the years, UWSC has worked with over 30 interns from the Sociology Department's Concentration in Analysis and Research (CAR),  as well as students from other departments. UWSC tries to match students with a position that builds on their interests – data analysis, survey management, or technology.  Students move quickly into real research jobs:  analyzing question wording experiments or programming web surveys.  Some students fit so well that we can't let them go — at least 12 CAR students have become full-time UWSC employees.  UWSC's Associate Director John Stevenson, Technology Director Eric White, and Programmer Kate Krueger were all CAR students.
Some undergraduate researchers move on to careers in survey research elsewhere.  Curtiss Engstrom, a former Welton Fellow and Honors CAR student, became the first UW-Madison undergraduate to be awarded the highly competitive Summer Fellow position sponsored by the University of Michigan-University of Maryland-Westat Joint Program in Survey Methodology (JPSM) in summer 2018.  Ningyuan Ma, from Harbin, China, won a position as a research intern at NORC in Chicago , the only undergraduate among 7 participants in NORC's summer internship program, selected from over 500 applicants. Ningyuan currently works as a survey researcher at Renmin University in Beijing, China.